Katie Williams
is a designer, artist and cat mom living in Chicago. She is currently earning her
MFA in Visual Communication Design
at the School of the Art Institute of Chicago. This is her web portfolio. ︎
Hyde Park Art Center Redesign
2020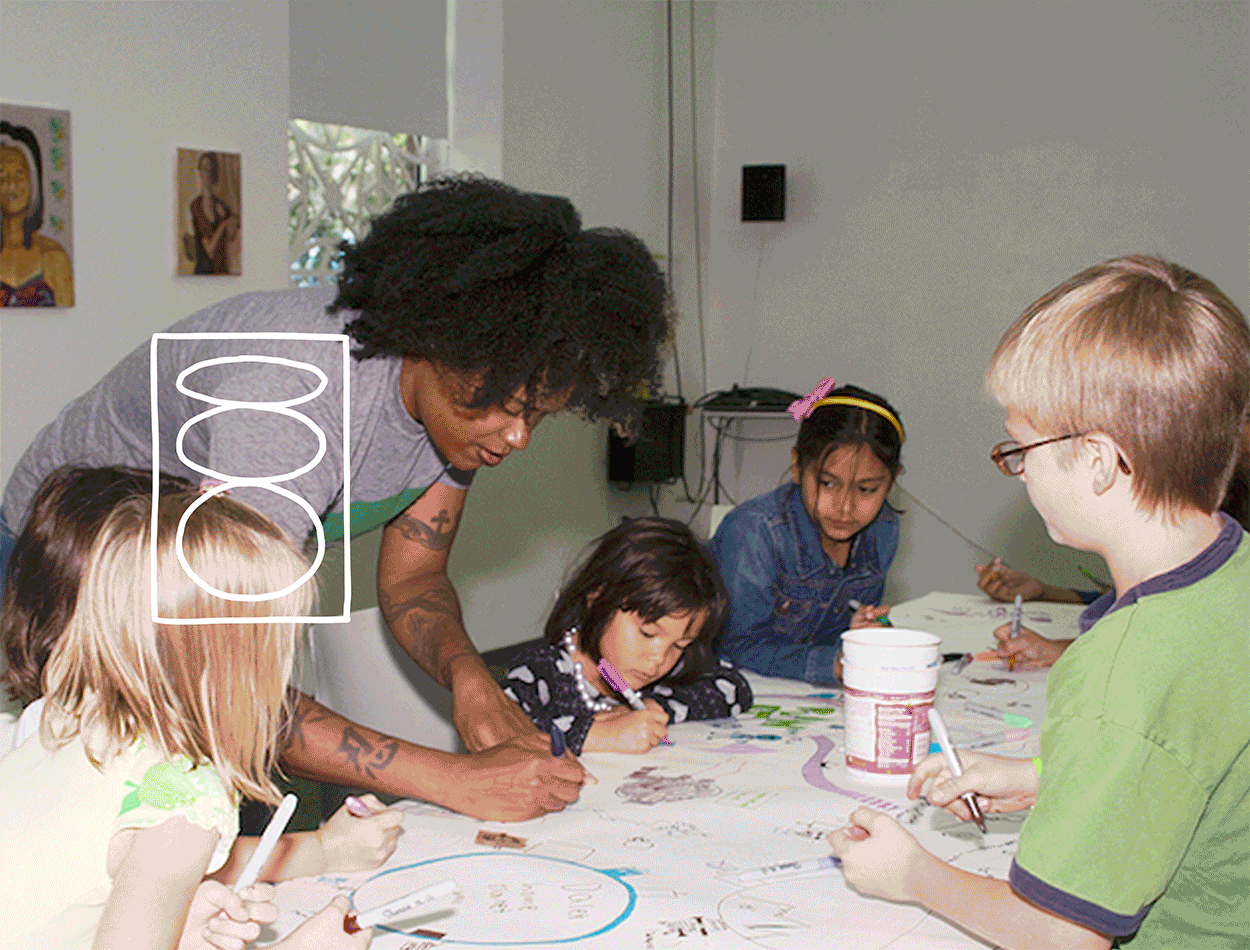 Hyde Park Art Center is an arts education and exhibition space in Chicago's Hyde Park neighborhood. With its rich history, HPAC has been a pillar in the Hyde Park neighborhood and in the Chicago art world as a whole.
The current logomark is from 2004, and though I wanted to refresh it, I wanted to maintain the vibrancy and modularity. The new concept is a visualization of the four pillars of the art center's mission: education, exhibitions, residencies and community.
The logomark is extremely versatile. With the four illustrative shapes, this logomark can be composed in a horizontal or quadrant-style lockup. Depending on context, it can be presented in the standard identity colors (as either solid shapes or outlines), black, white or with photographs or textures. The mark can also be broken up and each shape can be used in isolation, often to designate an employee's role on a business card. It is recognizable enough to be used as standalone graphics, but is presented in full with the logotype set in
.
Full brand guidelines book, complete with contextual research and concept sketches, available upon request.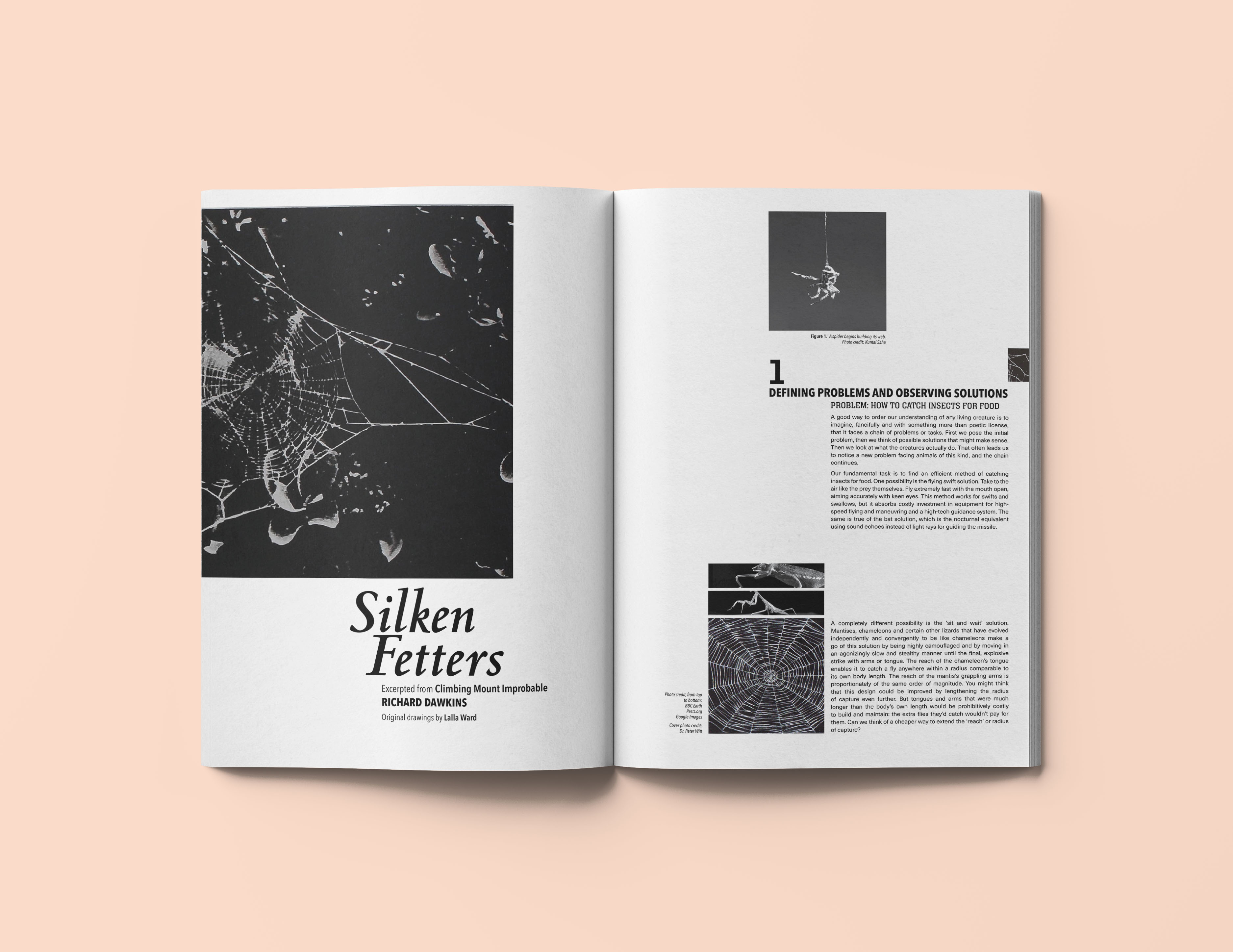 Silken Fetters is an editorial spread created first with the cut-and-paste method, then measured digitally and composed using a 6-column grid structure. The goal was to create a dynamic reading experience that heightened an otherwise dry text. About half of the images were provided, and the other half were sourced from scientific entymologist journals and other periodicals.

During the initial process phase, I created about 5 full paste-up versions, each 28 pages in length. Once working digitally, I was able to condense the information into a 26-page spread.

While the content is methodical and heavily factual, the author pays special attention to the delicacy and grace of the spider. It was important, therefore, to introduce a sophistication and ephemeral intimacy into the layout.

Full spread available to view upon request.
Inspired by the irresistibility of bubble wrap, I joined thousands (if not millions) of other artists making work about the Covid-19 coronavirus pandemic. This work is interested in participation, visibility, passage of time, preservation of history and the incompetence of our government, and was inspired by the irresistible nature of bubble wrap, the inate competitive urge to win in gameplay and the conflicts of conscious and unconscious participation in works by Félix González-Torres.

Players pop the bubble of a specific event and fill in the date of occurrence on the corresponding sheet. Bingo is called for diagonals and full blackout. But what is the point of winning, when all that's left is loss. ︎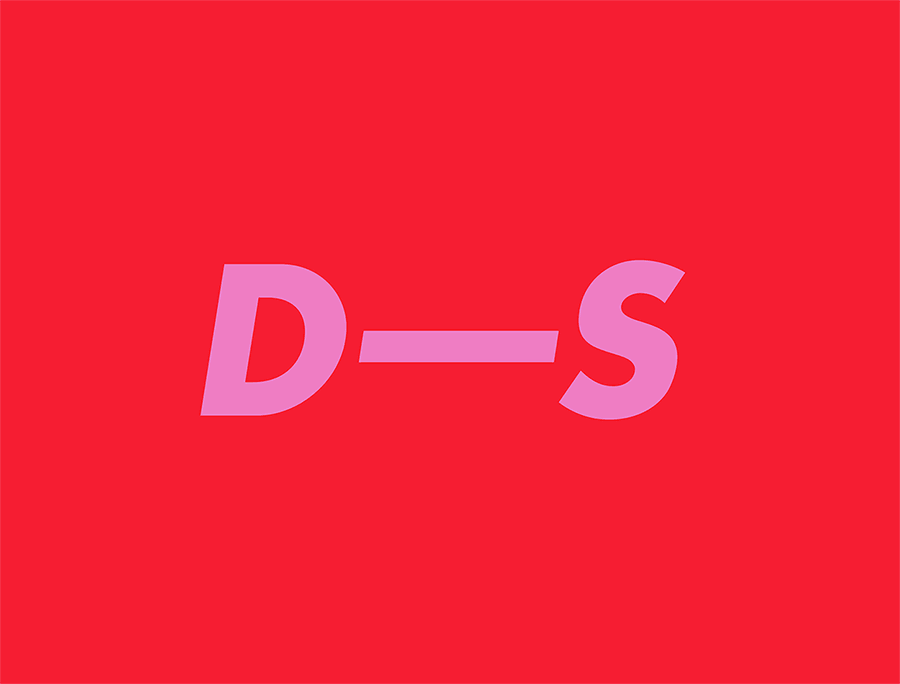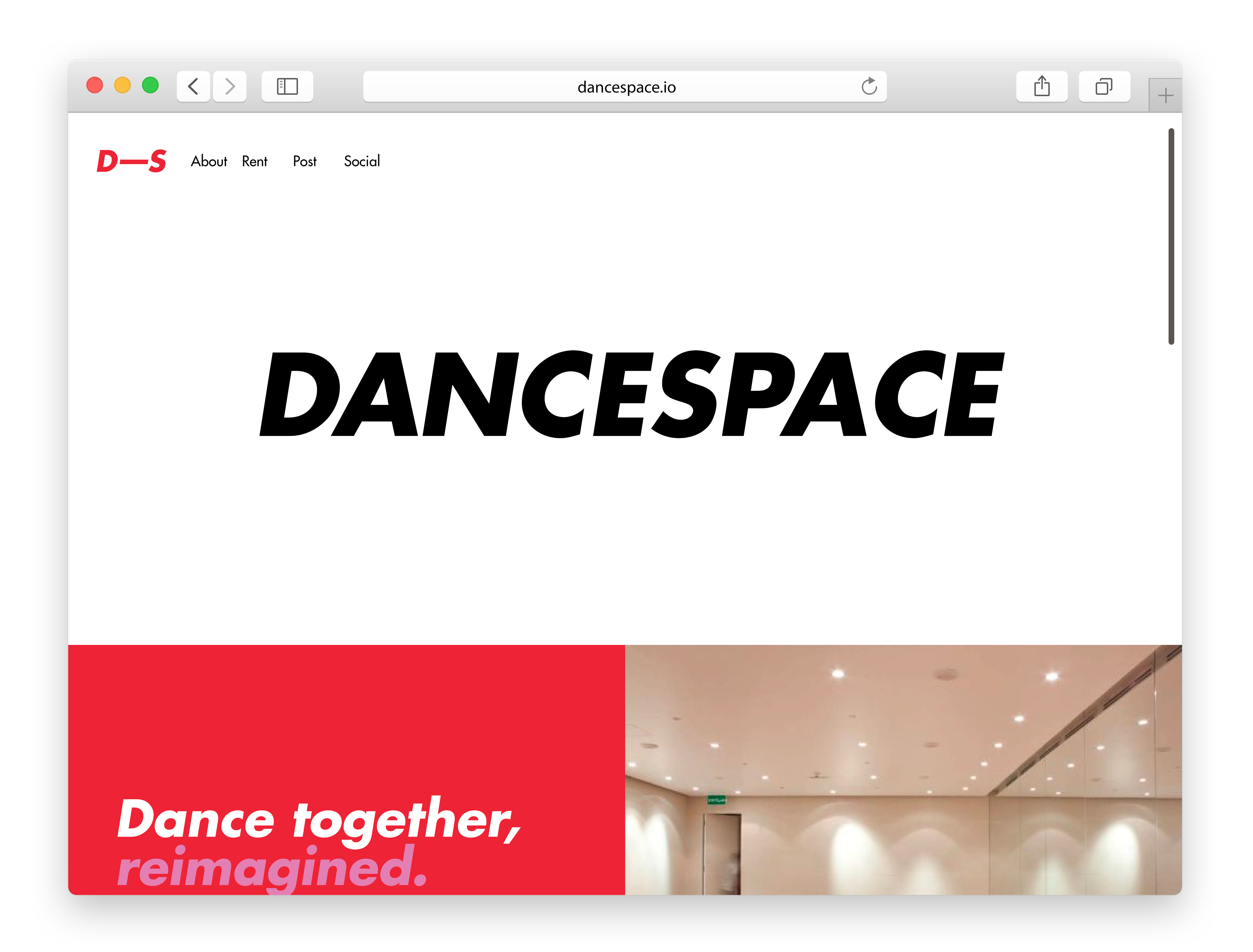 Identity proposal for
, a dance studio reservation site and community, from freelance work during the summer of 2020. Logomark, identity assets and custom web design on SquareSpace (since changed by company) all applied to Dancespace officially during summer 2020.
Dancespace is a new startup organization founded by Olivia Weber as part of an incubation project at American University. A dancer herself, Olivia found it challenging to find studio space to rent for rehearsals throughout the Washington, DC area. Dancespace is an OpenTable-like aggregate of all rehearsal spaces in the area (with plans to expand). Studio searches can be filtered by aspects like: kitchen, A/C, locker rooms, integrated sound system, etc.
The Dancespace identity is fresh, bold, creative and packed with energy. The dash is a formal take on "space" and connection. Colors are warm and inviting while clean and fresh, appealing to a diverse audience.
Part identity design, part print design calling for 3 posters, a multi-page informational digital document and social media assets for fictitious organization The Food Bank Movement's campagin "Hunger Can't Wait." While researching similar organizations to this one (namely, Feeing America), I did what I always do—heavily annotate and create my own guide of notes to make the information more understandable. Looking over my notes later gave me the familiar thrill of getting a used textbook for class and opening it to find generations' worth of annotations. A sigh of relief that I had a handmade Sparknotes built in.

The language, statistics and data provided regarding food insecurity and hunger is dry, dense and difficult to grasp given the volume and scale of numbers involved. To make this organization more approachable, and therefore more effective at accessing and educating the public, I wanted to replicate the annotated notebook.

All assets of the identity incorporate my own handwriting, and scanned loose papers and sticky notes. The overall effect is nostalgic and intimate, approachable and informative.

Full digital informational document available upon request.